January, with its sense of renewal, is usually a cold month. Alas, with the winter tends to come dry skin. My combination skin doesn't escape, and winter makes flaky skin in the morning or the pull of a tight and parched face familiar occurrences. I regularly moisturize my face, but in winter, it can feel like playing endless catch up. Moisturizer serves as a remedy, slathered atop those flaky dry patches, accompanied by the hope for better, but you never quite feel on top of it. I recently had the opportunity to try Neutrogena's new Hydro Boost Cleansing Gel (MSRP $8)  for free, thanks to Pinch Me and, what follows is my review after several weeks of use.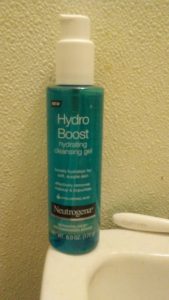 While Hydro Boost gel cleanser does say "gel", it's more of a thick liquid with a base of water and glycerin that comes in a pump bottle. Upon applying the cleanser to your face, you'll notice that it feels soothing and silky. The formula lathers gently and never feels thick or goopy. Many cleansers feel like they strip your skin of moisture and settle for a squeaky clean effect that feels soft, but will subsequently dissipate, leaving your skin feeling tight or even dry again. Along with glycerin, another key ingredient that helps skin keep moisture is hyaluronic acid, which is used throughout the Hydro Boost line.
It has been pleasant to wake up in the morning without having to worry that my face will be dry and in need of some careful moisturizing and time to try and really repair the texture before I go about my day.
Another task the Hydro Boost Cleansing Gel excels at is removing makeup. Even though it states on the bottle that it removes makeup, I was skeptical. I rarely use facial cleanser to take my makeup off, since most of the time it falls short in one or more ways. For one, it will often melt part of my eye makeup, letting it then run down my face in a clear effort at raccoon cosplay. Two, it will do that masterful melting of part of my eye makeup, then leave the rest in uneven quantities, from bits of eyeliner that cling to the skin under my eye to waterproof mascara still partly coating my lashes. Most of the time, face cleanser is inadequate, but I was pleasantly surprised by this product. To test, I wet my face over my eye makeup and applied two pumps of cleanser into my hand, spreading it over one eye while I watched with the other. Surprisingly, it applied smoothly, but didn't start dripping with residue that usually makes my makeup migrate all over my face when removing it with a standard cleanser. What's more, I didn't have to scrub at my lashes, and everything came off quickly and smoothly.
Finding a product that keeps its promises and works is always exciting, and this one is promising in that regard. Using it several times a week makes my skin feel soft and clean, while helping me avoid the usual winter dryness.The formula feels protective and after several weeks of regular use, I think I have found a cleanser to rely on in the winter months.